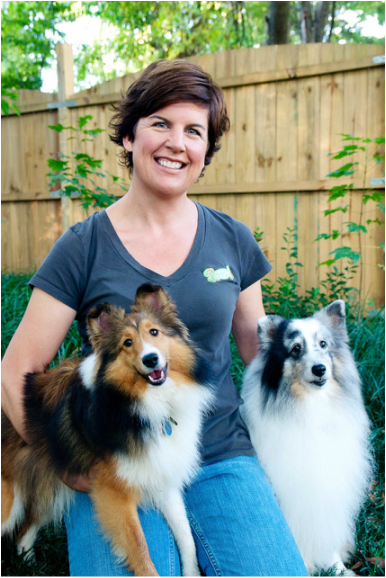 Are you living your purpose?
One of our former clients-- entrepreneur Jill Beitel --feels she is doing just that.  When her youngest child was ready for school, Jill shifted her focus from stay-at-home Mom to in-your-home dog trainer.
Now in her 7th successful year, Jill is the preeminent trainer to Charlotte's most well-heeled canines. She's personable, professional and respected by both four-legged clients and their owners.
This month's success interview is a great read for any small business.
Jill, what was your career path before you decided to have a family?
My degree is in forest management; I worked for Weyerhauser in Mississippi and the Parks and Recreation Department in Charlotte.
When did you decide to transition to training dogs?
Actually, dog training has always been a hobby. I gave away advice for years until I realized there was a need for teaching people how to effectively communicate with their pets.  Once I chose training as a profession, I more purposefully sought out ways to develop skills and experience.
As coaches, we like that you teach communication skills! Can you say more about that?
Most people don't intuitively know how to communicate with a dog, and might mistakenly think that using intimidation or force is the only, way to "make a dog behave".  With reward-based training, we help owners and dogs understand the same "language".   Once a dog actually learns what is expected, they will happily choose those behaviors.
How did you grow your business?
I just printed up business cards and we grew by referrals; in the beginning there was no other advertising or marketing.
What brought you to Carolina Business Coach?
I was so caught up in training dogs that the business side of Courteous Canine was suffering.  I knew that I had to start nurturing other areas if I wanted to succeed.
How did coaching provide you with direction?
Harvey was both practical and inspirational. He gave me a To Do list of business tasks to keep me focused and accountable. I felt like he had a plan and was going to feed me a little at a time so that I wouldn't get any more overwhelmed than I was already.
What were your biggest takeaways?
Harvey helped me realize my value/worth, and helped me set boundaries. This was huge for me personally and professionally. Harvey pointed out out that like most entrepreneurs, I was wearing multiple hats, and showed me the benefits of delegation and working smarter.  I hired a bookkeeper and later on, someone to do my social media.
What were the results of implementing these concepts?
In less than a year I went from feeling nervous and scattered to purposeful and organized. I could focus on doing what I loved--teaching and training dogs and people--without feeling worried or guilty about not taking care of the very necessary paperwork and other administrative areas of the business.
Is there anything else you remember from your coaching that might help our readers?
Harvey encouraged me to pursue ongoing professional development and certifications. To this day I continue to do that in order to excel.
Was there a point when you realized you were a success?
When the economy tanked I experienced no downturn! Yippee!
It's 7 years later; how is your business different now?
Instead of 4 or 5 dogs per week, we work with up to 50! We now have two additional part-time trainers.  And the list of classes has expanded tremendously to include pet therapy, agility, socialization and manners in public settings.  I'm also starting to train service dogs who can identify blood sugar fluctuations in diabetics.
What makes you so doggedly determined, Jill?
I still love teaching and training. There's nothing like that that 'light bulb moment' when the dog (or their person!) gets it!
Want to communicate better with your dog? Call Courteous Canine at : 980-722-4286
Want to communicate better with everyone else? Call Carolina Business Coach at:704.604.1655